CET, a leading manufacturer in the OA industry, is proud to announce the launch of its latest breakthrough product utilizing its proprietary water foam technology. After extensive research and development, CET successfully developed and mastered this innovative new manufacturing technique in-house, positioning itself as a leading compatible manufacturer with this capability.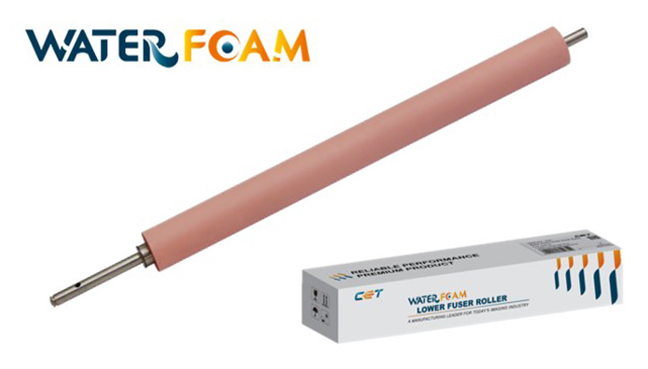 Why Water Foam
Recognizing the need to stay synchronized with OEMs and meet the current configuration requirements for new technology machines, CET embarked on developing water-based foam technology. This forward-thinking approach aligns with the industry's evolving demands and sets a new development trend in the market.
Water Foam Roller Advantages
CET's water foam technology has amazing advantages. Water foam creates a sponge-like roller with a finer molecular structure that can be modified to produce different hardness and NIP results for better fusing and improved performance.
The interconnected foam pore structure of water foam technology allows for quick energy absorption and release that improves fusing and lowers energy consumption. CET's new water foam rollers are perfect for enterprises seeking greater efficiencies and improved performance from an advanced, lower cost product technology.
Ambitious Production Plans
CET's lower fuser roller for HP M452dn printer uses water foam technology to demonstrate its innovative approach. CET has ambitious plans to expand its product line further, developing products for other leading brands, including RICOH, KONICA MINOLTA and CANON. CET remains committed to delivering superior products and better solutions to customers worldwide through its unwavering dedication to continuous improvement and innovation.